Products
We manufacture variety of dies specializing primarily in powder metallurgy dies. We have the capability to conduct various machining, heat treatment and finishing processes in-house.
Powder metallurgy dies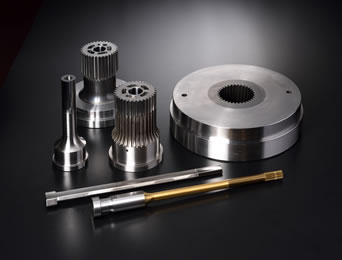 Powder metallurgy dies and tools we manufacture are mainly used to produce automobile parts.
We manufacture complex shaped high precision dies which needs to produce various parts of oil pump, pulleys, clutch, transmission, etc.
In addition to automotive industry our dies are used in the component production of consumer electronics, such as air condition parts.
Dies for sintered parts in automotive industry.
Parts for oil pump
Pulley for timing belt
Parts for clutch
Parts for ABS
Parts for power steering
Parts for synchronize hub.
etc.
Dies for sintered parts in consumer electronics and OA equipment.
Parts for air conditioner outdoor compressor unit
Parts for hard disk
Bearing parts for small precision motor
etc.
---
---
Forging dies and other dies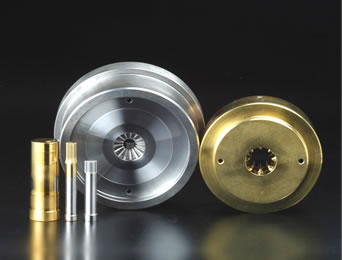 Using the technologies mastered with powder metallurgy die manufacturing, we manufacture high precision dies for forging processes (cold, warm and hot) with increased tool life. In addition we manufacture complex shaped high precision dies for fine blanking, precision sheet metal forming and aluminum die casting, etc.
Dies for parts used in automobile industry (four-wheel, two-wheel)
parts for transmission
parts for underbody
parts for engine
parts for clutch
parts for steering
parts for seat belt
etc.
Dies for parts used in agricultural machinery industry
parts for transmission
parts for drive system
parts for differential gear
etc.
---
Products by other group companies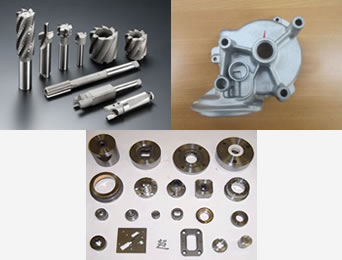 In addition to powder metallurgy molds and forging molds handled by Zeno Tech, each group company deals with various products.
We support customers with various products such as cutting tools, injection molding dies, drawing dies, die sets, aluminum die cast parts and so on. Because there are manufacturing bases overseas, we can also help you with local procurement.
---
Die, die set design and prototype manufacturing
We fully support our customers' needs from designing to prototype manufacturing of various forging and forming parts, especially in cold forging area.
Availability of simulation software and press machine enables us to simulate the forging process, analyze the die loading and do prototyping of new parts.
Testing of characteristics of material and dies is possible with the availability of universal testing machine, metallurgical microscope and other testing equipment.
We also design and manufacture high precision, high rigidity die sets for cold forging and other forging and forming processes.
In addition we do design and manufacture special die sets with gas springs and in-built hydraulic mechanism.
---